Chipping to meet your demands
Wood (High Speed)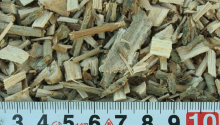 Wood (Slow Speed)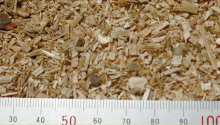 Use for composts, mulching, making pellets, pathways, landscaping or bio-energy. Choose the size to suit your needs! * Large chips, called pinchips may be occasionally discharged in material.
Utilisation facile du rotor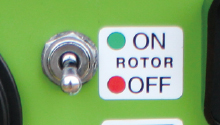 The rotor clutch can be engaged/disengaged by flicking a switch. New function for this model.
Adjusting chip size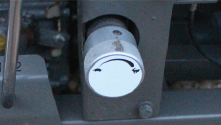 The processing speed is adjustable by turning the "Flow Controller". Chip size can be changed between 2-16mm.
* Uniform sized chips are produced with screen. (Screens are optional)
Economical "Feeding blades"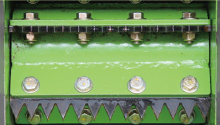 Feeding blades on feed roller are replaceable. If the blades become worn, you only need to change blades.
Fuel-saving mode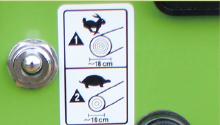 Easily switch between "Normal mode" and "Branch mode". Small branches of max. dia. 9cm are chipped with "Branch mode", and more fuel savings can be achieved.
* Des copeaux de taille uniforme peuvent etre obtenus avec un tamis. (Les tamis sont disponibles en option)
Automatic No Stress Control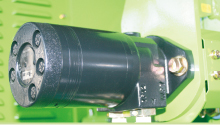 An automatic hydraulic No Stress control system, communicates with the feed roller ensuring stable and efficient feeding of materials.
Micro-computer No Stress control
Micro-computer between the feed roller and engine reduces engine loading stress and prevents damage. Developed in-house using years of mechanical know-how.
Safety design
Brake Lever
The brake lever is gripped to transport the vehicle. When released the parking brake will be activated automatically.
Feed Roller Safety Bar
Allows user to stop the feed roller in an emergency and if necessary without using their hands.
Excellent chipping efficiency
Finely chip leafy branches.
Wide hopper allows easy feeding of leafy branches.
Robust and durable body.
Change between reverse / forward feed with one switch.
Easily transportable at just over 1.2 t.
High grade knife specification. To chip materials where something hard like nails may be attached the enhanced knife is recommended.
Screens with various hole sizes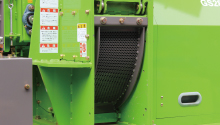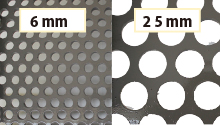 To adjust chip size and to produce uniform sized chips just change the screen. Screens with various hole sizes: 6, 8, 10, 12, 18, 25 mm
※6mm holed screen must be used with vacuum collector.
Processed chips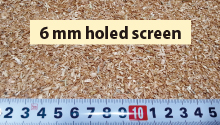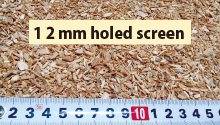 Different chip sizes suit different purposes. Choose the hole size of the screen based on your needs.
To discharge chips below
Side shooter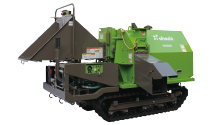 Conveniently discharge chips below when chipping in places where a high shooter may cause obstructions like an orchard.
※Can not be used in combination with the high shooter.
※Screen available (Screen hole size should be 8mm or more.)  6mm holed screen must be used with a vacuum collector.
For chipping grass and bark
Flat blade set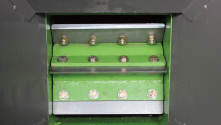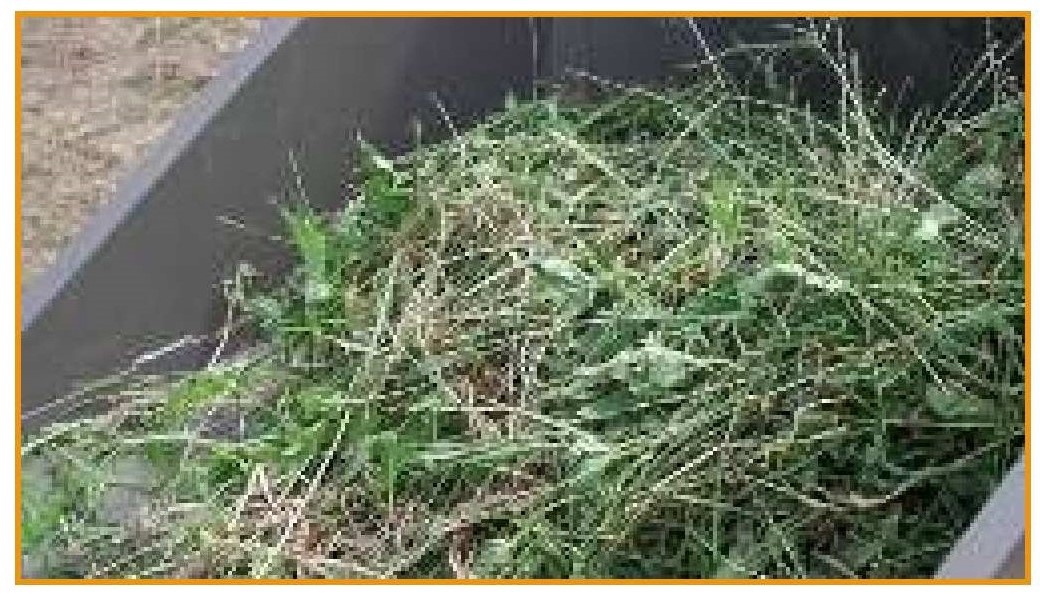 Attaching flat blade to the feed roller to avoid clogging on sharp edges.
※ Grass containing more water, should be discharged via the side shooter because chipped grass might clog up the high shooter. Do not use with screen.